PVC Medium Braided Hose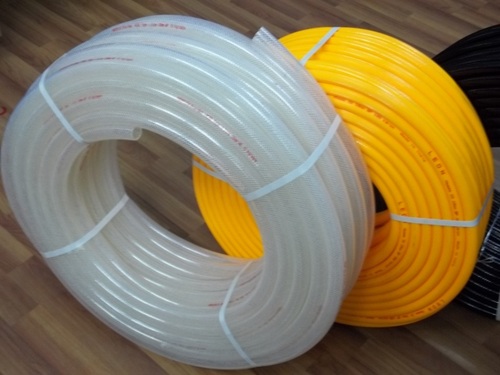 PVC Medium Braided Hose
Product Description
Our Company has gained immense recognition in this domain for manufacturing and presenting an excellent assortment of PVC Medium Braided Hose. We are known for offering rugged structure and crack & leakage resistant quality range. Manufactured at maintained degree, these pipes are delivered after they have been tested thoroughly by quality controller. PVC Medium Braided Hose are available in various customizations to meet each individual requirement. Our hoses carry company's original trademark as a sign of authenticity and originality.
Product Details:
| | |
| --- | --- |
| Size | 1/2 inch, 3/4 inch, 1 inch, 2 inch |
| Color | Transparent |
| Brand | Indoflex |
General Specifications:
Working
Pressure

Min. Bursting
Pressure

Working
Temp Range

Deforming
Temp.

Brittleness
Temp

Min. Bending
Radius

10
Kg/cm

40
Kg/cm

Minus 5 to
90 C

120 C

Minus
30 C

At 5 Times the Nominal
Diameter cross section
does not collapse.
Major uses: Any type of water flow in flexible conduit without any fittings or joints. Pressurized flow of Water, Air, Gases, Chemicals and Hydrocarbon Solvents. Used in various fields as a
Garden Hose,Water Hose

Mining/Rock Drill Hose

Cement Curing Hose

Fire Fighting Hose

Car Washing Hose

Sanitary Connection Hose

Air Pneumatic Hose

Insecticide/Paint Spray Hose

Gas Welding/Cutting Hose

Fluid Discharge Hose

Industrial Gas Hose

Fuel Pipe & Break Hose

Air Conditioners Condensed Water Outlet Hose

Washing Machine Water Inlet Hose
Sizes generally used :
Type 2

WP

Type 2 Heavy

WP

I.D.mm

O.D.mm

kgf/cm

I.D.mm

O.D.mm

kgf/cm

6

12

20

8

14

20

8

13

15

8

16

25

12.5

18.5

20

12.5

20

25

10

17

18

10

19

20

16

20

10

16

21

20

20

25.5

15

20

28

20

25

31.5

15

25

33

20

31

38

10

31

40

15

37

45

10

37

47

15

50

58

10

50

60

15